Ho Chi Minh City Securities Corporation (HSC, HOSE: HCM) would like to announce the financial performance in Q3.2022 and accumulative 9 months of 2022.
End of Q3.2022, VN-Index closed at 1,132 points, decreased 5.4% in Q3 and 24.4% after 9 months. The average trading value of whole market decreased by 22% compared to Q2.2022 and by 40% compared to the same period in 2021.
Q3. 2022, HSC achieved VND 637 billion in revenue, more than VND 206 billion in before-tax profit. Decreased 30% and 48% respectively compared to the same quarter in 2021.
Accumulative 9M.2022, HSC achieved total revenue of VND 2,270 billion, a slightly decreased of 6% compared to the same period last year. HSC's cumulative profit before tax for 9M2022 reached VND 909 billion, completed 61% yearly plan.
After the first 09 months, HSC achieved earnings per share (EPS) of VND 1,590. The return on equity (ROAE) ratio was 19.3%.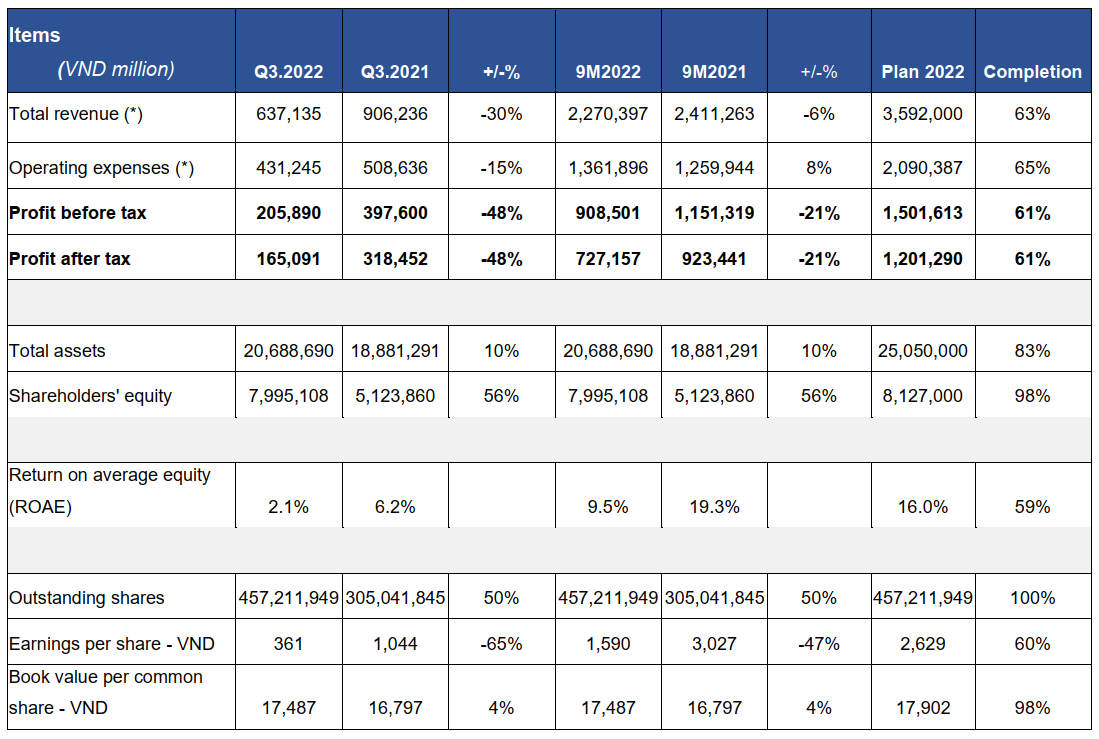 (*) Revenue and expenses of the 2 periods are recorded to reduce the losses of proprietary investment activities for comparison purposes.
Accordingly, three key businesses: brokerage, margin lending and proprietary investment contributed 97% of total net revenue in the first 9 months of 2022.
• Brokerage services accounted for 30% of HSC's total revenue, reaching VND 687 billion, decreased 33% comparing to the same period of 2021.
• Revenue from margin lending activities reached VND 1,019 billion, an increase of 26% over the same period and accounting for 45% of total revenue.
• Proprietary investment achieved VND 498 billion in revenue, slight increased 7% y-o-y and contributed 22% to HSC's 9M.2022 revenue.
• Revenue from corporate financial advisory recorded VND 50 billion, increased 55% over the same period last year.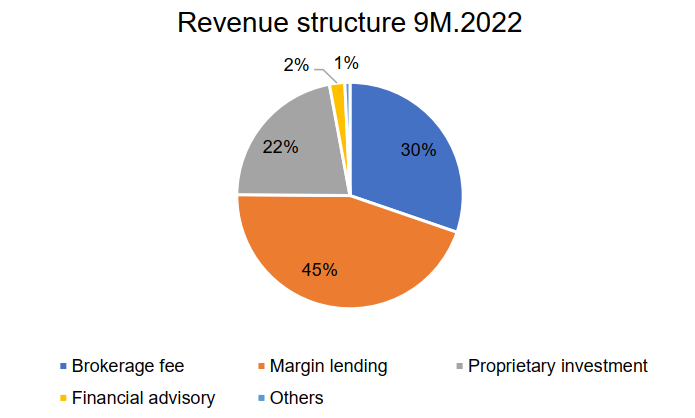 Please access here for Q3.2022 Financial Statement